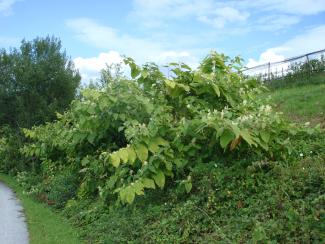 Classified as invasive in
Austria
Germany
Ireland
Norway
Slovenia
The Netherlands
Fallopia sachalinensis is a vigorous growing, rhizomatous perennial geophyte native to Japan and Russia (Sakhalin Island). The stems are usually clustered, erect, sparingly branched and can grow up to 4 m in height. It has been introduced into Europe as an ornamental plant. Fallopia sachalinensis is considered to be an extremely invasive species as it creates dense and monospecific stands. It can be found mainly in riparian habitats as well as an invader of roadsides and railway embankments.
Sources
Marigo G, Pautou G (1998): Phenology, growth and ecophysiological characteristics of Fallopia sachalinensis. Journal of Vegetation Science 9, 379–386.
Essl F., Rabitsch W. (2002): Neobiota in Österreich. Umweltbundesamt, Wien, 432 pp.
Gederaas L., Moen T.L., Skjelseth S., Larsen L.K. (2012): Alien species in Norway – with the Norwegian Black List 2012. The Norwegian Biodiversity Information Centre, Norway.
Jogan N., Bačič M., Krajšek S.S. (2012): Neobiota Slovenije, končno poročilo projekta. Oddelek za biologijo BF UL, Ljubljana.