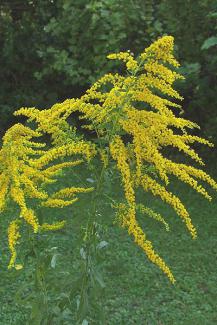 Classified as invasive in
Austria
Germany
Norway
Slovenia
Sweden
The Netherlands
Solidago canadensis is a perennial species with annual aboveground shoots and persistent belowground rhizomes native to North America. It can build up monoculture communities reducing plant and faunistic species richness. In Europe, S. canadensis is found mainly on forest edges and roadsides, railway embankments, abandoned fields and areas with an inappropriate land-use management.
Sources
Weber E (1998): The dynamics of plant invasions: a case study of three exotic goldenrod species (Solidago L.) in Europe. Journal of Biogeography 25, 147-154.
Moron D, Lenda M, Skórka P, Szentgyörgyi H, Settele J, Woyciechowski M (2009): Wild pollinator communities are negatively affected by invasion of alien goldenrods in grassland landscapes. Biological Conservation 142, 1322-1332.
Essl F., Rabitsch W. (2002): Neobiota in Österreich. Umweltbundesamt, Wien, 432 pp.
Gederaas L., Moen T.L., Skjelseth S., Larsen L.K. (2012): Alien species in Norway – with the Norwegian Black List 2012. The Norwegian Biodiversity Information Centre, Norway.
Jogan N., Bačič M., Krajšek S.S. (2012): Neobiota Slovenije, končno poročilo projekta. Oddelek za biologijo BF UL, Ljubljana.
Tyler T., Karlsson T., Milberg P., Sahlin U., Sundberg S. (2015): Invasive plant species in the Swedish flora: developing criteria and definitions, and assessing the invasiveness of individual taxa. Nordic Journal of Botany 33, 300–317.